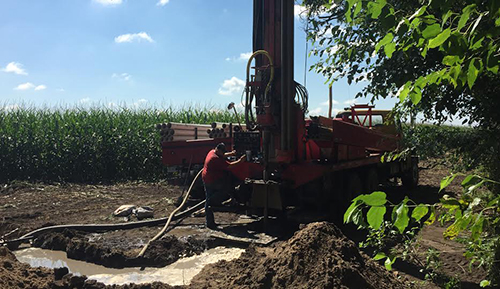 Ensuring you have a residential well system that's properly drilled and maintained to exceptional working order is critical. If at any time your well begins to fall below operational expectations, it's a problem that will affect your living space and quality of life.
Fletcher's Well Drilling LLC is here to ensure that your well water system is always in top function order. From the drilling of the actual well, to the installation of the pump system, to the maintenance and repair of that system and beyond, we do everything to keep it pumping strong and safe.
Our capabilities when it comes to water well service in Knox, Plymouth, Bass Station, and La Crosse, IN includes all of the essentials you'll need throughout your time as a homeowner, including:
Pump repairs
Pump replacements
Pressure tank repairs
Pressure tank replacements
Water testing
Water treatment
Water line installation
Water line repair
Constant pressure pump installations
System inspections
Water softener installation
If at any time you suspect issues with your well system or are alerted to a potential problem that may be hindering your well's ability to deliver clean, safe water to you, make sure you're consulting with our professionals for water well service in Knox, IN.
Emergency services
We know that problems can arise at any time, which is why we're available 24 hours a day when emergency situations arise. Just give us a call, explain your problem and we'll quickly get a tech sent out to you, to remedy the problem and restore your well's function.
Drill services
Our core specialty is drilling in Knox, IN. We're pleased to provide drilling services for new and existing residential properties and can work with you to facilitate a quick, comprehensive drill and installation. We offer 4" to 12" water wells.
For more information about any of the water well services we're pleased to offer in Indiana or to inquire about scheduling your appointment for water well service, well pump repair, commercial well service, and more, please contact us today by calling 574-946-7960.